Raghavendra Vaidya, Managing Director and CEO of Daimler Truck Innovation Center India (DTICI) in Bengaluru, is responsible for all DTICI operations in India. He takes on the additional responsibility of leading global vehicle connectivity for DTAG, which involves leading a global team spanning Germany, the United States and Japan.
Vaidya has over 25 years of professional experience and her expertise ranges from technology leadership to digital strategy. Most recently, Vaidya was Senior Vice President of IT at Mercedes-Benz Research and Development India (MBRDI). He has also held various management positions for several GE business divisions including GE Money, GE Capital, GE Energy and the GE India Technology Center.
Vaidya holds a BSc in Mechanical Engineering from RV College of Engineering, Bangalore and an MSc in Software Systems Technology from Birla Institute of Technology and Science, Pilani (BITS).
In an interaction with THE WEEK, he talks about the uniqueness of this center and its importance for Daimler Truck's overall strategy.
What are the unique aspects of this technical center and how will it be different from other Daimler centers around the world, especially the one in Germany?
As one of the world's leading commercial vehicle manufacturers, Daimler Truck has decided to establish a dedicated IT and product engineering center in Bangalore, India. This center will serve as an epicenter for future innovations and leverage the capabilities of talent in the region. The automotive sector is changing at a very rapid pace. Disruptive automotive technologies and high-quality next-generation vehicles will be paramount for companies to create differentiation in the industry. With the launch of the Daimler Truck Innovation Center India (DTICI), we will be able to equip the commercial vehicle segment with state-of-the-art technology and innovation to stay ahead. DTICI will focus on product engineering and IT capabilities to empower all Daimler Truck business units and brands globally, including Mercedes-Benz Trucks, Freightliner, Western Star, Thomas Built Buses, Fuso, Bharat Benz and EvoBus GmbH.
What kind of innovations will this center work on and generate some patents?
DTICI will provide a competitive advantage by developing deep engineering and IT capabilities to achieve zero emissions and cutting-edge software and electronics innovations for all Daimler truck and bus brands worldwide. Our combined strength in product engineering ranging from design, computer-aided engineering (CAE) to mechatronics and IT, coupled with a talent pool, will bring new technologies to the road even faster than earlier and more efficiently. We will be a company like no other in our industry that will represent the CO2-neutral, automated and connected transport of the future. Innovation is at the heart of what we do and we encourage our employees to push the boundaries and redefine the future of the commercial vehicle industry.
Are there some unique platforms that are developed by this center?
At Daimler Trucks, we are aware that future innovations will be centered on Zero Emissions technology and software. Daimler Truck Operating System (DTOS) is the future platform on which we will build software for our vehicles, allowing us to create software-only functionality and shorten the innovation cycle. DTICI is an integral part of the global team and will serve as the technological backbone to develop this unique operating system.
What kind of people will be hired for the center and what kind of professionals will be preferred for hiring? Do you have any information on the number of people who would be hired for the center?
We seek to build a rich pool of talent with the primary goal of accelerating the process of technology adoption on the road. With this in mind, we will hire committed professionals who have the required expertise in the fields of mechatronics, IT, software development and CAD. We trained them to hone the skills required specifically for Daimler Truck. We plan to increase our workforce by 35% by next year.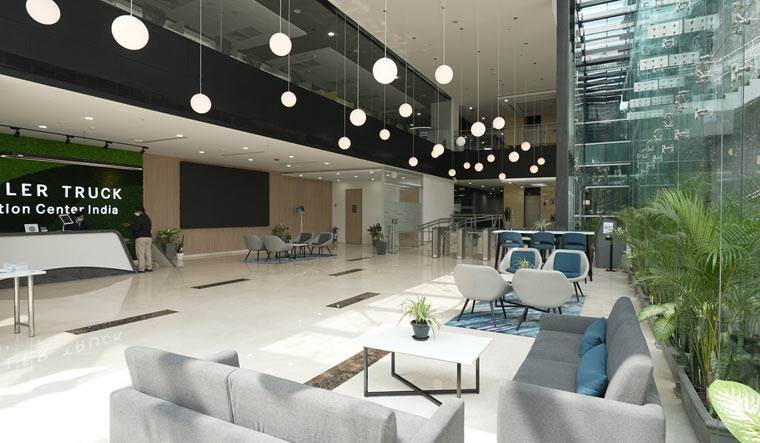 Please elaborate on the latest innovations in truck technology that are on the market?
One of the biggest breakthroughs in the commercial vehicle industry is the development of self-driving trucks and their potential affordability in the near future. Although still at the prototype stage, concrete progress is being made in terms of improving AI and sensor-based technology. Route optimization for heavy/long-haul freight is another important problem that companies have solved through dynamic routing, a technology that uses a combination of hardware and software frameworks to collect real-time data and determine the best possible route. Over a long period, this translates into incredible savings on fuel and maintenance costs.
What kind of futuristic technologies in trucks are developed in this center?
The gold standard to which all companies aspire is to develop a zero-emission automotive product – it is both in the interest of the planet and in ours. However, the challenges in this regard are much greater for commercial vehicles. Range anxiety is a more pressing concern given the heavy payloads CVs (utility vehicles) haul over long distances. This is one of the main areas that we will cover in the center. In terms of IT, we are working on repositioning our key platforms to serve as standalone pillars for the business. Within the center we will also focus on advanced analytics and data science to extract every bit of intelligence from the data we have collected on our trucks – which are 100% connected.